Summer Stitch-a-long: The Aunt's Quilt Week 3
Welcome to week 3! This week's block has SO. MANY. CIRCLES! So I decided it was time to break into that bag of Karen Kay Buckley's Perfect Circles that had been sitting on my table intimidating me for a year. I just didn't know how to use them and wasn't driven to teach myself...until I saw the number of circles in this week's block (and in week 4's block, fyi). And now I'm in love. I really think I could make a whole quilt of just appliqued circles, they're so fun!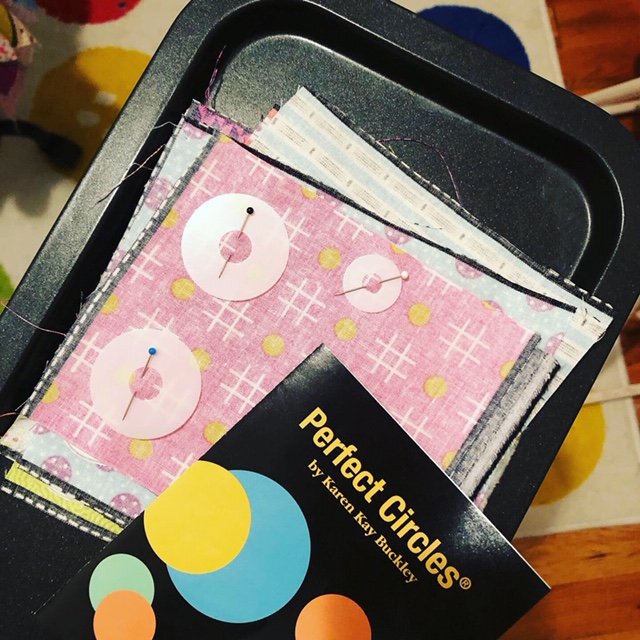 So here's how you use them! The instructional booklet says to trace around the circle and then cut ~ 1/4 away from traced line, but I didn't have my Frixion pen (gasp!) and I couldn't find a pencil so I just pinned the circle to my fabric as pictured and cut my circle. Note: the only two marking tools I would've been okay with using were the Frixion pen or a lead pencil, even through you trace the circle on the back of the fabric. I wouldn't want to use any other kind of pen because we use starch with this method and the wetness would make the ink run on my fabric! No one wants that.
That's a pretty stack of circles! (and a thumb that really makes it evident I need a manicure) The next step after cutting the circles was to baste around the edge using just a basting stich, or running stitch. And then...PULL! It's like magic.
After you have pulled the basting thread to this point, you wet the edges with a little starch and press! Then you can remove the Perfect Circle template and your circle is ready to be basted and stitched to your block.
I hope this encourages you to use your Perfect Circles and make your life easier! Here are pictures of this week's blocks:
Enjoy your stitching! - Sam